Digs 'transform understanding' of Norfolk Roman site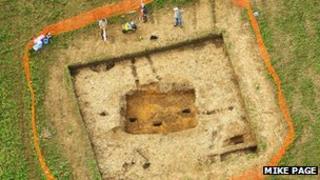 Archaeologists say four years of digs in Norfolk have transformed their understanding of a Roman site.
Skeletons, coins and pottery are among the items discovered at Caistor St Edmund, near Norwich, since 2009.
Archaeologists have just completed their latest dig at the former Roman town of Venta Icenorum.
Project leader Dr Will Bowden said their research showed the site was far more complex than first thought, and not solely a Roman settlement.
A human skeleton and the remains of an Anglo-Saxon building were excavated during this summer's dig.
'People in togas'
"We knew there was occupation outside the walls from the 5th Century onwards because we have Anglo-Saxon cemeteries," said Dr Bowden, of the University of Nottingham.
"The discovery of a classic Anglo-Saxon building was a really important find because it's the first time we have known where people were actually living."
The Romans abandoned Venta Icenorum in the early 5th Century.
"We shouldn't imagine a bunch of people in togas getting on ships and sailing back to Italy," said Dr Bowden.
"They would have moved into surrounding countryside or further west in the face of pressure from incoming Anglo-Saxon tribes."
Dr Bowden said the excavations proved Venta Icenorum developed gradually, rather than being laid all out at once in response to Boudicca's uprising of 60 or 61AD.
"The idea that it was plonked down in the aftermath of the Boudiccan rebellion is an idea that developed in the 1930s and has stuck around ever since," he said.
"The town actually develops gradually quite a long time after the Boudiccan revolt, rather than being part of the Roman reprisals.
"Anglo-Saxon occupation of the site is the key thing that elevates Caistor in importance.
"It's a rare example of a regional Roman capital that doesn't have any modern buildings on it, and the only one that has this Anglo-Saxon phase."
The series of summer digs, run by Caistor Roman Project, has now finished, but archaeologists will continue to make test excavations and survey the site for the next five years or so.