Bernard Matthews' villa legacy thwarted by children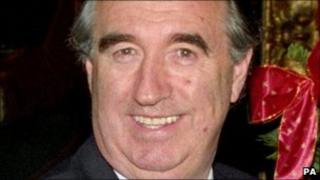 The last wish of Norfolk turkey tycoon Bernard Matthews to leave a £12m French villa to the woman he lived with has been thwarted by his children.
Mr Matthews, who died in 2010 aged 80, wanted to give Villa Bolinha in the south of France to Odile Marteyn, who had "unfailingly" supported him.
He had hoped his three adopted children - and his son - would give up legal rights to the villa in Provence.
But the children thwarted this wish using a French law giving them a share.
In a dispute over inheritance tax, deputy High Court judge Nicholas Strauss QC heard that Mr Matthews' wishes had been "disregarded" by the adopted children and Ms Marteyn had been left with less than a half share in the villa.
£50m in property
Mr Matthews and his wife Joyce, who helped him found the turkey business, had lived apart for 35 years although they had adopted Kathleen, Jason and Victoria.
He also had a son by Cornelia Elgershuizen called George who inherited much of the estate.
Judge Strauss said Mr Matthews had lived with Ms Marteyn in England and Ramatuelle for about 20 years.
He had left three wills and in one he bequeathed Villa Bolinha to Ms Marteyn outright, Judge Strauss said in a written ruling published on Wednesday following a hearing in July.
"He was aware that, by French law, his children were entitled to 75% of Villa Bolinha on his death.
"He hoped nevertheless that his children would not exercise their rights, and left a letter to that effect.
"While George respected his wishes, the adopted children did not, with the result that Odile could only inherit 43.75%."
'Occupied and enjoyed'
In a letter to the children, Mr Matthews said: "Odile has supported me unfailingly for many years and particularly so during my recent illnesses.
"Without such support I might not have been able to continue directing our family company for our mutual benefit, especially since trading conditions have become so difficult.
"I wish the French villa to continue to be occupied and enjoyed, and consider Odile would be the best person to take on this responsibility."
The judge said Mr Matthews owned more than £50m worth of property when he died.
French tax authorities estimated Villa Bolinha to be worth £12m and Mr Matthews' property outside France was worth about £40m.
The adopted children's lawyers had claimed that French inheritance tax liabilities should be paid by the Matthews estate but this was rejected by Judge Strauss.