Taverham cash machine raid linked to others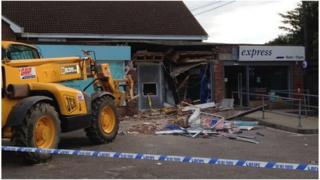 A raid where a stolen digger was used to try to steal a cash machine from a Tesco Express near Norwich is being linked with other thefts in the East.
The raid on Tuesday at Taverham is the latest of dozens reported in the region over the past few years.
Norfolk Police said information about raids using stolen building equipment would be pooled with other forces.
They would be examining similarities between raids and looking for a pattern in the the attacks, police said.
Det Insp Richard Graveling, from Norfolk Police, said: "We are linking the incident at Taverham with other raids both in Norfolk and across the region.
"We are working with other forces as part of our inquiries.
"Officers are continuing to work at the scene in Taverham and will be speaking to witnesses.
"This type of crime affects both businesses and members of public, and we are treating it as a priority."
Norfolk Police said it would work with forces in Bedfordshire, Cambridgeshire, Essex, Hertfordshire, Northamptonshire and Suffolk to exchange details of raids.