Sonny Yallop's Norfolk treetop challenge ends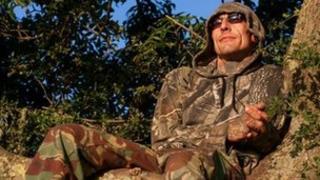 A Norfolk man who has spent a month living in a tree has raised only a fraction of the charity money he was aiming for.
Sonny Yallop, 42, has now climbed down after living on a wooden platform at the top of an ash tree at Pentney Abbey.
He had been hoping to raise thousands of pounds for cancer research, but currently has £250.
He was raising money in memory of an aunt who died from cancer a year ago.
Mr Yallop said: "I'm a bit disappointed by the amount raised, but times are hard for everybody and if it was £200 or £200,000, someone will benefit."
Mr Yallop, who is from King's Lynn, did not leave the tree for a month and washed using wipes or in rain showers.
Rain showers
He took shelter using his fisherman's three-sided tent.
His family brought food and drink up and down for him and emptied the chemical toilet he was using.
He said: "My legs are feeling it, but all that experience was quite fantastic with the highs being the sunrises and sunsets.
"The lows were not being able to have a shower, but I did manage to have a couple of natural rain showers, so it wasn't so bad.
"My aunt would be proud and it was a bit of grieving process for me being up there, and now I've come down with peace."
Mr Yallop hopes more money can still be raised with subsequent raffles and pledges.