Couple rescued after inflatable boat capsizes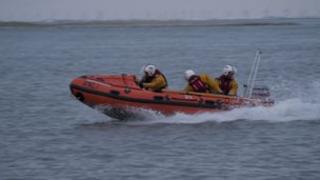 A couple in their 40s have been rescued off the Norfolk coast after their inflatable boat capsized.
The Wells RNLI lifeboat station was alerted on Friday evening after a boat was reported to have been hit by a wave at the Harbour Bar near Blakeney.
A man and a woman, who had been fishing, had ended up in the water.
Two RNLI lifeboats arrived at the scene, but the couple had already been picked up by an inflatable from a sailing school based at Morston.
The woman, who was from Perthshire, was wearing a life jacket, but the man, who was from Cambridgeshire, was not.
The couple managed to raise the alarm by setting off red flares.
The RNLI said the man suffered no ill effects, but the woman appeared to be suffering from shock and was taken to the Norfolk and Norwich Hospital for observation.
Lifeboat crews righted the couple's rigid inflatable boat and towed it to Wells, as the sea was deemed to be too rough to tow it to Blakeney.