Big Star 'deserves Holt golden postbox for Olympic medal'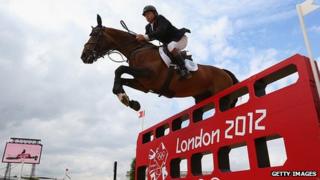 A gold-medal winning horse should be honoured with a golden postbox in his home town in Norfolk, an Olympics official has said.
Big Star, who is stabled in Holt, carried Nick Skelton to showjumping gold over the Netherlands on Monday.
Skelton's win was marked with a painted postbox in Alcester, Warwickshire.
London 2012 eventing manager Alec Lochore said the sport "has two athletes affording the same recognition - one equine, one human".
Royal Mail is painting postboxes gold in towns associated with Team GB's gold medal winners.
Owned by Gary and Beverley Widdowson, from north Norfolk, Big Star played a key role in securing Team GB's first showjumping gold in more than 60 years.
"It was absolutely immense the other night when Britain won team gold in the jumping competition - Nick Skelton and Big Star were the main-stay of that," said Mr Lochore, also event director at Norfolk's Houghton Horse Trials.
"If Royal Mail were to honour that, they'd be painting a postbox gold in Holt where Big Star resides when he's not competing.
"I think it sounds like a very good idea, well deserved and the recognition would be correct."
Holt's mayor Bryan Payne said the postbox honour would be "a good idea".
'Considered choice'
In a statement, the Royal Mail said it was "delighted to mark the achievement of GB athletes in winning gold medals - either individually or as part of a team".
"Each of these gold medal winners will have a postbox painted gold in the community they are, or have been associated with," said a Royal Mail spokesman.
"This could be where they were born, where they grew up or where they presently live and we look at all these factors before reaching a considered choice."
Royal Mail declined to comment on whether it would consider giving similar recognition to horses such as Big Star.
Six thousand people packed into Holt when the Olympic torch was carried through the market town in the run-up to the Games.
Mr Payne, of Holt Town Council, said: "It's no good having a good rider without a good horse.
"The torch relay packed the town. It was a fantastic atmosphere so to celebrate one of our own athletes, albeit with four legs, would be a fitting end to Holt's contribution to London 2012."
Skelton and Big Star were the last to jump in the final round of the individual competition on Wednesday but the horse knocked over the third-to-last fence, ending any medal hopes.