Gaywood Primary School song We Say tops iTunes chart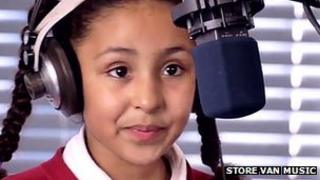 Children from a school near King's Lynn have secured a number one hit as a song produced in a classroom workshop tops the UK iTunes children's songs chart.
Recorded by pupils at Gaywood Community Primary School it was published to show parents the fruits of a music lesson, but has become a chart-topping success.
The track, We Say, involving more than 400 children, was created using iPad technology and traditional instruments.
Head teacher Paul Shanks said the chart hit was beyond their "wildest dreams".
The song was produced over three days and released on Monday night with the help of composer and producer Neil Johnston.
It topped the iTunes chart on Tuesday morning and currently sits above Axel F by Crazy Frog. The track has also topped the Amazon children's chart, beating songs from Toy Story 3 and Jungle Book to the number one slot.
Mr Johnston said: "This sort of thing hasn't been done before - it really is the ultimate music lesson.
"By using technology we can help re-engage the children who do not find playing an instrument naturally easy and means that part of the lesson isn't bypassed."
Great songwriters
The project, featuring children aged four to 11, has incorporated key areas of the curriculum such as maths to count the beat and IT skills for recording and producing the track.
Mr Shanks said: "It's important children know that music isn't just about singing on a TV talent show.
"If they are good at English they could be great songwriters, if you're good at technology you can have a real impact in the music business.
"We wanted every child in the school to be involved through either the music technology workshop, singing, playing an instrument or group recording session - all of this was incorporated into the final track.
"This is a fantastic experience for the children to be learning music through advanced technology - not only to enhance their learning but the fact that all our children can now say they have a number one is a memory for life and beyond our wildest dreams."
Any money made from the sales of the song on the download charts will be reinvested back into the school.