Royal Norfolk Show traffic problems continue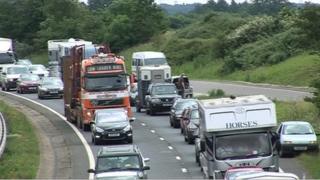 Traffic problems have continued to affect the opening morning of this year's Royal Norfolk Show despite new routes being introduced.
Many people who spoke to the BBC at the Norfolk Showground said they had been stuck in queues, some for three hours, while trying to get into car parks.
One visitor said the traffic situation was "appalling" and "getting worse".
Show manager Sarah de Chair said staff would look at any road issues to try to solve them for Thursday.
People driving to this week's show, on the outskirts of Norwich, were being encouraged to stick to specific routes to avoid a repeat of last year's travel problems.
'Worst ever'
Organisers apologised following last year's event when high visitor numbers resulted in large queues outside car parks, with some people giving up and heading home.
However, BBC Look East reporter Nikki Fox said there continued to be large queues, particularly with westbound A47 traffic.
Royal Norfolk Show manager Mrs de Chair said: "We will be having a debrief after today to look and see how it's gone.
"But bear in mind that we have 50,000 people trying to converge on the showground and they all want to be here at the same time, so as long as the traffic is moving, which it was this morning, that really is the best that we can do."
It is predicted that 100,000 people would have visited show - the largest two-day agricultural event in the country - by the time it closes on Thursday evening.