King's Lynn incinerator: Planners advised to approve burner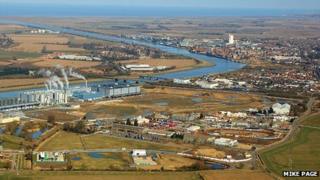 Planners at Norfolk County Council have been advised to back a scheme to build a waste incinerator in King's Lynn.
A report by Mike Jackson, the council's director of environment, transport and development, said the burner was a "key proposal" in the treatment of waste.
It added after examination by consultants, the £500m plant would have "no adverse impacts" on air quality, human health or the environment.
The decision will be put to council planners on 29 June.
Developer Cory Wheelabrator said the incinerator at Saddlebow would save the county council taxpayer £200m and divert 250,000 tonnes of waste away from landfill.
Judicial review
King's Lynn and West Norfolk Borough Council, Norwich City Council, some local MPs and residents have condemned the building of the plant since the county council gave the scheme its preliminary backing in March 2011.
In January the scheme was awarded £91m in private finance (PFI) credits by Environment Secretary Caroline Spelman.
King's Lynn Borough Council has since sought for a judicial review of the funding and has asked Communities Secretary Eric Pickles to have the planning application led by an independent inspector.
Norfolk County Council would have to pay Cory Wheelabrator £20m in compensation if planning permission is not awarded.
In the council report, Mr Jackson said: "This is a key proposal in terms of making a major provision for the treatment of Norfolk's waste and moving this up the waste hierarchy from landfill.
"The proposal would have the additional benefits of generating energy in the form of power to be exported to the National Grid, and with the potential for heat and steam to be supplied to an adjacent major industrial development.
'Blatant manipulation'
"A grant of PFI credits has been awarded by the government and this financial provision will help facilitate the delivery of the project and consequent financial savings to the county council in the provision of the waste management service."
The report also states that the majority of responses received from local residents objected to the proposal.
However, it adds: "The technical evidence presented by the applicants has been rigorously examined by the county council's consultants and by statutory consultees, and this has been verified as demonstrating that there would be no adverse impacts on air quality, on human health and on designated habitats."
Mike Knights, from Farmers Campaign against the incinerator, said: "The county council has been determined from the outset to award themselves planning permission for their own proposal.
"Eric Pickles has the power to stop such blatant manipulation of local government, and we now hope he will now call it in so it can be determined on its merits."