Norfolk County Council looks to buy ex-RAF Coltishall base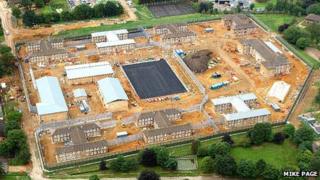 Norfolk County Council has expressed an interest in buying part of a redundant RAF base.
RAF Coltishall closed in 2006 and the Ministry of Justice (MoJ) opened a sex offenders prison, HMP Bure, on the site in 2009.
Norfolk County Council wants to buy the remaining 600 acres from the MoJ, and has plans to build homes along with an agriculture and engineering facility.
The scheme will be considered by the council's cabinet on 11 June.
The MoJ said the council was its "preferred bidder".
The council has not said how much it is prepared to pay for the site.
Other potential uses for the site, which would be developed using the council's £10m infrastructure fund, include a dementia care unit, museum and fuel storage facility, it said.
'Seize the opportunity'
However, if councillors do decide to make an offer, the council would be up against another bid by the Hans House Group of Companies, which has plans to turn the base into a solar farm, heritage centre and museum.
The MoJ announced it was putting the rest of the site up for sale last year following the creation of HMP Bure.
Previous bids that have collapsed to buy the former Battle of Britain airbase include a proposal by TAG Aviation to store and deconstruct Boeing 737s and other large aircraft at the site.
The company withdrew its interest last year after being unable to secure funding.
Derrick Murphy, leader of Norfolk County Council, said: "Coltishall is a very special place with a proud history, but the time to realise its potential for the good of the community and the Norfolk economy generally is well overdue.
"The purchase of this asset is absolutely in line with our key roles to act positively and decisively on behalf of Norfolk communities.
"Coltishall's buildings are deteriorating and we can't allow that to continue.
"We need to seize the opportunity now and work together to use this key asset innovatively and creatively to benefit local people and our economy."