Hedgehog stuck in tin of carrots rescued by RSPCA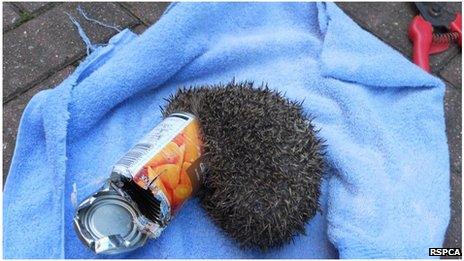 A hedgehog is recovering in an RSPCA hospital after being found by the side of a road with its head wedged in an empty carrot tin.
The couple who discovered him cut one end of the tin off to allow the animal to breathe, before calling the RSPCA.
He was taken to the East Winch Wildlife Centre near King's Lynn, Norfolk, where staff managed to free him from the tin.
The ordeal left him with minor wounds but a spokesman said the hedgehog was "resting comfortably".
Alison Charles, RSPCA centre manager, said: "This again highlights the dangers that litter can pose to wildlife.
"Incidents like this can easily be prevented if people just picked up their rubbish rather than throwing it away, and remembered to squeeze cans together before throwing them away.
"Had this hedgehog not been found he would have died a slow and painful death."
She added: "I am not sure why he chose a can of carrots to investigate. It is not the normal thing you would find on a hedgehog's choice of lunch menu.
"Perhaps he wanted to see better in the dark."
Related Internet Links
The BBC is not responsible for the content of external sites.