Kray twins' prison paintings to be auctioned in Norfolk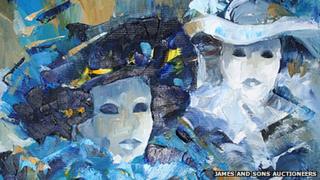 More than 40 paintings and drawings by notorious gangsters the Kray twins are to be auctioned in Norfolk.
Ronnie and Reggie Kray, who ran a gang in London's East End in the 1950s and 1960s, were jailed for murder in 1969.
The artwork, produced while the pair were in prison, will be sold at Fakenham Racecourse on 11 July.
The auction also contains photographs, letters and a pair of boxing gloves given to Reggie by fellow convict Charles Bronson.
Auctioneers James and Sons said the Kray pictures included nudes, portraits, landscapes, seascapes, animals and still-life, with some being copies of works by renowned artists.
The majority of pieces were created by Reggie - 37 items - with five by Ronnie.
Also being auctioned are a number of Reggie's letters to "Clive" - a fellow inmate who appears to have been Kray's "gopher" while he was at HMP Wayland in Norfolk.
A drawing by the Great Train robber Ronald [Buster] Edwards is also being put up for sale.
The Krays were jailed for life in 1969, with a recommended sentence of 30 years, for two separate murders in London.
Ronnie died aged 61 at Wexham Park hospital, Berkshire, in 1995 after suffering a heart attack.
Reggie, who lived to be 66, died from cancer at the Town House Hotel in Norwich in 2000.