Norwich nightlife violence tackled in new police operation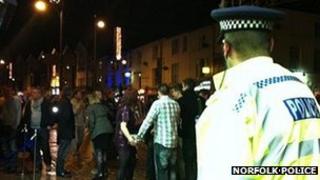 New tactics are being piloted by police in a bid to control violence around the city's nightclubs.
More officers will be on patrol this weekend on Prince of Wales Road alongside officers using drug dogs and mobile CCTV to deter offenders.
Police figures show there have been more crimes in Norwich since club opening hours extended to 06:00 GMT.
Ch Insp Gavin Tempest said people's behaviour had "steadily deteriorated" since the laws changed in 2009.
"Since the change of licensing hours it has made the situation steadily worse," he said.
'Aggressive behaviour'
"More people coming out more or less at the same time enjoying the night and then drinking proportionately more than they would have done.
"People who succumb to alcohol become more vulnerable and more exposed to aggressive behaviour.
"Those are the individuals that are part of this problem and they're the ones we're aiming to concentrate on, whilst keeping the rest of that area a much safer place to go."
Norfolk Police said it would work alongside club door staff, volunteers from Norwich's SOS bus project and street pastors to try to curb alcohol-related violence.
On Wednesday club Wafou on Prince of Wales Road had its licence revoked after police complained of "crime and disorder" at the venue.
Mr Tempest said cases such as this were rare, but hoped the new police operation would look to make the city a safer place to enjoy a night out.
Partygoers will be encouraged to provide feedback on the operation with officers completing surveys throughout Saturday, which can also be filled out online .