King's Lynn incinerator: Permit plans on display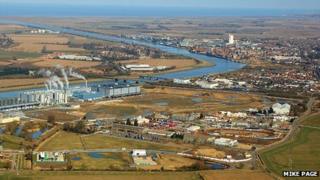 Plans setting out how a controversial £500m waste incinerator in Norfolk could operate are being presented to the public.
The Environment Agency is inviting comments on a "draft permit" it has issued detailing how the plant in King's Lynn could be run.
The document outlines the conditions and emission limits that must be met.
The plans are being shown at South Lynn Community Centre, in the town, between 15:30 and 20:30 BST.
A separate public consultation by Norfolk County Council on the scheme ends on Monday.
The authority's planning sub-committee is likely to consider the plans in the summer.
Mike Knights, from campaign group King's Lynn Without Incineration, said: "If this was the best solution for Norfolk's waste then all authorities across the county would've opted for the same - and they haven't."
Norfolk County Council estimates the project could save £8m a year on the cost of sending rubbish to landfill.
A council spokesman said: "Additional cash benefits may well come from power generation and the sale of recycled materials including metals and aggregates recovered from the ash."