Norwich Cathedral peregrine falcon lays four eggs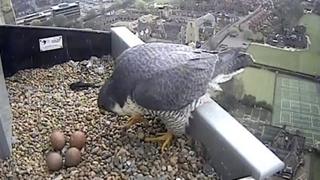 A peregrine falcon has laid four eggs on Norwich Cathedral spire, fuelling hopes it will hatch one of the first Norfolk chicks in 200 years.
The eggs were laid on a platform, set up by the Hawk and Owl Trust, between the 22 and 30 March.
Experts say the female did not start to incubate the eggs until after the third egg had been laid so they should all hatch around the end of April.
The trust said it was "delighted the peregrines have laid a full clutch."
The female peregrine will do the majority of the incubating, which takes between 29 and 32 days, while the male hunts.
He will also take over incubation from time to time to allow the female to feed.
Live webcam
An egg was laid on the spire platform last year but the chick inside was dead.
However, conservationists believe the new eggs have been produced by a different female.
Activity on the ledge is being followed 24-hours a day by two cameras, one of which isbroadcast on the internet.
Peregrine falcon numbers declined during the 19th and 20th Centuries due to illegal shooting and use of certain pesticides on farms.
The first permanent recording of a breeding pair in Norfolk for hundreds of years happened in 2010 at a granary site in North Lynn.