Easter hatches business success for Norfolk chocolate makers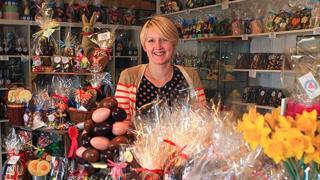 Despite the tough economic climate, chocolate consumption levels have barely wavered - good news for Norfolk's growing army of chocolatiers.
From small artisan chocolate makers to one of the largest manufacturers in the UK, Norfolk's modern chocolatiers are following a long tradition in the county.
Some of the earliest chocolate was first poured in late 1800s whenAlbert Caley started making Caley's chocolatein Norwich. They became famous for their darkMarching Chocolatebars that were sent to soldiers on the front line during World War I.
The factory, now the site of Chapelfield shopping centre, was destroyed in 1942 by enemy bombing, but reopened in 1947 and became the property of Rowntree Mackintosh in the early 1970s. It was taken over by Nestle in 1988.
'Like good wine'
For generations, parts of Norwich had an intoxicating aroma, like something out of Willy Wonka's Chocolate Factory, as sweet treats, such as Munchies and Caramac, rolled off the production line.
Research analyst Mintel forecast the 2012 UK chocolate market to be worth around £4.2bn.
Artisan chocolate maker Dale Skipper, from Walsingham, has been crafting chocolate for 10 years. She has noticed we are now less satisfied with a quick chocolate fix and are more interested in understanding chocolate's flavour notes and origins.
She said: "We get a lot more people wanting the magic 70%, but that's only a start. If you're using a good chocolate for cooking, think about where it's come from.
"Granada is a spice island so you get spicy, fruity notes. Cuban chocolate is more earthy and smoky - no two chocolates are the same.
"People really now appreciate that it's not just chocolate, but it's like buying a good wine with notes and flavours from different regions."
'Something different'
Our love of chocolate is good news for Gnaw, the new kids on the Norfolk chocolate block who have just celebrated their first year of trading with a £200,000 turnover.
Based in Brooke, south Norfolk - also home to the Norfolk Truffle Company and Booja Booja - former University of East Anglia student Matt Legon, 29, and his wife Teri, 30, have quickly established their own brand of hand-made Norfolk chocolate.
"There was a big gap between your basic mainstream chocolate and the more exclusive end of the market - there was nothing fun and quirky out there and that's what we wanted to do," said Mrs Legon.
The self-confessed chocoholics opened for business in March 2011. They now employ nine staff, make more than 6,500 bars of chocolate by hand a week, and are keen to champion their Norfolk roots.
"I've often heard that chocolate is recession-proof and I'd agree," said Mr Legon.
"We're about creating great flavours and fun. We're proud to be local and champion that in our product as people look on something made in Norfolk as a quality product and that's where we're benefiting."
Large-scale chocolate production stopped in Norwich in the late 1990s when the Nestle factory closed, but the tradition continues in Fakenham - home to Kinnerton Confectionary.
Established in 1978, it employs more than 700 staff and makes 20 million Easter eggs and 10 million advent calendars a year, along with "own brand" chocolate for a majority of the UK's major retailers.
Katy Perry
One of the most established artisan chocolate makers in north Norfolk is Dale Skipper's Chocolate Deli in Walsingham.
Having trained as a ceramist, her work fell under the celebrity spotlight after she was commissioned to make gifts for Katy Perry and the 2012 Brit Awards.
"We had a client ask us for something exciting for Katy's birthday. I managed to do a two-and-a-half foot chocolate sculpture with over-the-top candy canes, cup cakes with a sparkly Katy and big red shoe on top."
Away from the celebrity spotlight, Easter is a vital time for the deli. Mrs Skipper makes and decorates more than 1,500 eggs by hand from January onwards, with takings over the Easter weekend equal to a normal month.
She said: "We have to double our staff to cope with amount of people in the shop - it's utterly bonkers.
"There can be a good profit to be made on chocolate, but I can spend many hours hand decorating on top of the basic eggs.
"You're paying for my time, but that's an artisan product - to make everything individually with love and care, rather than turn ourselves into a chocolate machine."