Jubilee Journalists: BBC selects 12 royal reporters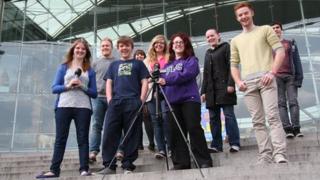 Some of the county's best young broadcasting brains have been chosen as royal reporters for the BBC's Diamond Jubilee coverage in Norfolk.
The 12 Jubilee Journalists, aged between 16 and 23, will broadcast their stories on BBC Radio Norfolk and Norwich's BBC Big Screen.
Reporting out in the field during the Jubilee's build-up, they will also broadcast live on the radio on 5 June.
Their reports will then be published and archived online by BBC Voices.
"It's an amazing opportunity for the aspiring journalists to be at the heart of the BBC during such an exciting and busy time for the media," said Gary Standley from BBC Voices' community media centre, based at the corporation's East headquarters in Norwich.
"While hopefully being a lot of fun, the opportunity will also allow them to develop their skills and understand what it's like to be a real life reporter."
The Diamond Jubilee project was created by Norfolk County Council, BBC Radio Norfolk and the Eastern Daily Press (EDP) newspaper, to give the county's young people the chance to discover what the Jubilee means to people living in Norfolk.
'Great opportunity'
The novice reporters will have the chance to record video and audio on location and be given professional advice from the BBC that will culminate in their work being broadcast to thousands of people around the county.
Story ideas being undertaken include how the Jubilee will boost tourism in Norfolk, royal fashion during the 60-years of the Queen's reign, and how people from different cultural backgrounds will be celebrating the June event.
Hannah Peck, 16, who attends East Norfolk Sixth Form College in Gorleston, said the Jubilee project provided a "great opportunity" for her to learn about journalism and help her decide whether she wants to work in TV or radio in the future.
"It's the chance to do something I can be proud of and hopefully people will listen and be impressed with what I do too," said Miss Peck.
Fellow Jubilee Journalist Josh Worley who, while reporting, will also responsible for bringing the journalists' content together for the live radio show, said: "Planning the programme is incredibly scary, but just great fun at the same time.
"I have no idea how we are going to be able to fit it all into a single hour, but I'm sure we'll manage."
The Jubilee Journalists' work will be posted on BBC Voices'Tumblrsite and they will also provide regular updates on BBC Radio Norfolk'sFacebookandTwitterpages throughout the celebration period.