Council's plea to call in King's Lynn incinerator plans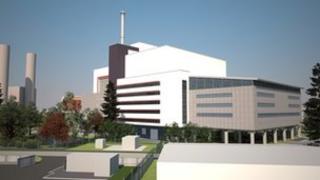 A Norfolk council has asked the Communities Secretary to step in over plans for a proposed £500m incinerator in King's Lynn.
The Borough Council of King's Lynn and West Norfolk has asked Eric Pickles to 'call in' the application for the project at Saddlebow.
The final decision on the scheme would then be taken out of Norfolk County Council's hands.
The county council approved the site's construction in March 2011.
Environment Secretary Caroline Spelman awarded £91m of private finance (PFI) credits towards the plant in January.
'Lost confidence'
Nick Daubney, borough council leader, said: "This matter is of such significance that we believe it should not be determined by Norfolk County Council."
He said a full public inquiry should instead be "led by an independent planning inspector".
Norfolk County Council signed a deal with developer Cory Wheelabrator in January which sets out how much waste the council will provide the plant as well as how much it will pay for it to be processed.
The council may now have to pay financial penalties of up to £20m if planning permission is not awarded.
The borough council believes there are more sustainable alternatives to the proposal both in scale and location.
"This is the only right thing to do," Mr Daubney said. "Local people have lost confidence in the county council's ability to judge this application in a fair and transparent way.
"The only way it can properly assessed is through a public inquiry."
A spokesman for the county council declined to comment on the move.