Polish extradition mum 'can stay in UK'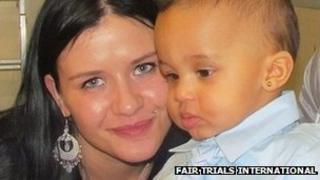 A 23-year-old single mother, with a one-year-old baby, who was facing extradition to Poland over a six-year-old drug offence can stay in the UK, her lawyers have said.
Natalia Gorczowska, who lives in Thetford, Norfolk, faced 10 months in jail after being arrested in December.
She was given a suspended sentenced when she was 17 for possession of four grams of amphetamines for personal use.
Her lawyer said the Polish prosecutor had now withdrawn the warrant.
Trivial warrants
Ms Gorczowska feared she would lose her son if she lost the extradition proceedings but Poland has withdrawn the European arrest warrant (EAW) against her, a spokesman for Kaim Todner solicitors said.
She left Poland for the UK a year after she was given the 10-month suspended sentence without informing her parole officer.
A spokesman for Kaim Todner said: "Kaim Todner have now been informed by Natalia Gorczowska's Polish Lawyer that the Polish court has agreed to withdraw the EAW.
"We now await further details and confirmation from the Serious Organised Crime Agency that her ordeal is over."
Last April, the European Commission said the number of EAWs being issued for trivial matters was undermining confidence in the system.
It called for a proportionality test to be brought in and warned issuing the arrest warrants for minor offences had a "disproportionate effect on the liberty and freedom of requested persons".