Stephen Fry gives cash to Norfolk Bloody Cuts films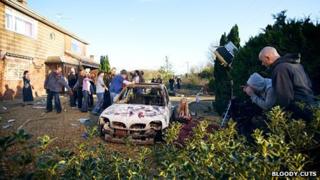 Actor Stephen Fry has donated money to a group of horror filmmakers in west Norfolk to continue their "good work".
Ben Franklin, creator of short film series Bloody Cuts, said the group received a "very generous" donation on the launch day of their latest flick.
Mr Franklin said the endorsement, along with recent magazine features, had seen the group's profile "skyrocket".
Mr Fry tweeted his news to the group: "Have popped a little of something in your hat... keep up the good work x".
Mr Franklin, 31, who grew up in King's Lynn and now lives in Huntingdon, Cambridgeshire, said: "I wouldn't want to give out a figure of any kind.
"It's not necessarily going to change our lives by any means, but when you make short films it's all coming out of your back pockets and our pockets are only so deep.
"To get any kind of donation or sponsorship goes a long way. At two o'clock in the morning when I got an e-mail from Paypal saying you've just received some money from Stephen Fry, that was very nice, but it was quite difficult to sleep afterwards."
The group replied to Mr Fry on Twitter saying: "Oh... my... Thank you, a thousand times - THANK YOU! #gobsmacked #lostforwords" and requested the actor and Hugh Laurie took part in a "Jeeves and Wooster vs. aggressive Zombies from Mars" film.
"We're assuming that he watched the film. I'm not sure necessarily why he felt he wanted to donate - maybe he was in a very generous frame of mind at the time," said Mr Franklin.
"I'm assuming perhaps the Norfolk connection is a very good reason for doing so, but you can only hazard a guess at why he decided to do it."
The latest Bloody Cuts movie Mother Died was released on Mothers' Day.
Mr Franklin, who works in corporate video in London, said much of the filming took place in King's Lynn, stating the town had a lot of "really good, different looking places" to shoot.
The anthology of 13 films, which have also been shot in Clenchwarton, Leziate and Middleton, hopes to be completed by 2013.
Mr Fry, who has a home in Norfolk, is currently in New Zealand working on the forthcoming movie The Hobbit.