UEA rugby club disbanded after sexism and racism complaints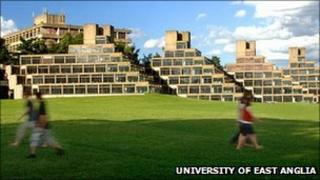 The University of East Anglia (UEA) has disbanded its men's rugby club after a large number of complaints, including of racism and sexism.
The Union of UEA Students said the club had "damaged the reputation of the university" and all club activity would be suspended for 18 months.
Recent complaints were made about Derby Day on 7 March, and the Men's 2nd XV game on 14 March, it added.
The club can appeal over the decision. It is yet to comment to the BBC.
Members who were at the two recent events are also banned from the union's Sports Association and from playing at the UEA, unless "those responsible" are named by 17:00 GMT on Friday, the union said.
Damage to hotel
It realised the action would impact on members who had not sparked complaints, but said the situation had reached a "critical mass which requires an immediate and marked change".
The club has prompted consistent complaints for a number of years, including criminal damage to the Maid's Head Hotel in Norwich city centre during the club's Christmas ball in 2010, the university said.
The club will be restarted at the beginning of the 2013/14 academic year, with special measures in place "to ensure that the new club does not follow the same path".
"Complaints against the club included offences of both sexist and racist natures," the union said.
"The club as it stands is not a sustainable proposition for providing rugby at UEA."
Club president Andy Driver told UEA student newspaper Concrete it did not condone any acts which had sparked the complaints.
He said it would appeal against the decision on the basis that individuals should be punished, not the entire club.
"It is some immature, unruly individuals who are putting the club in a bad light," he said.
"The majority of the club are just guys who enjoy playing rugby."