South Norfolk business booming, says Experian research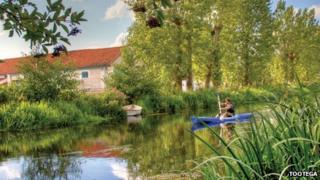 New research has shown a rural part of Norfolk has one of the fastest growing rates of new business in the country.
Figures released by Experian show that south Norfolk, known for its quaint market towns and rolling countryside, has rapidly become a hot-bed for new ventures, reporting 402 new companies since 2010.
The area is now rated the 10th most popular region in the country to set up a business.
The internationally-renowned Hethel Engineering Centre and Norwich Research Park may come to mind, but their new enterprises do not distort the figures.
Between them, these specialist centres of industry only account for 22 new companies out of the 402. So where are the others, and what do they do?
"In Norfolk we still make boats, we still make lots of chemical products and we still make an awful lot of food," said David Dukes, economic development manager at Norfolk County Council.
'Lot of activity'
"We make a lot of engineering products and fabrications for the offshore industry - and they've done particularly well.
"We make lots of chocolate, we make waterproof gloves and socks in King's Lynn, ball bearings - you name it, there's an awful lot of activity."
Norfolk's manufacturing industry as a whole appears to have bucked the national trend.
In January it was announced by the Office of National Statistics thatmore manufacturing jobs had been created in Norfolk during the downturnthan anywhere else in the country - about 4,500 since 2006.
"[In Norfolk] we don't have that many very large manufacturing businesses that are often very vulnerable, so one of those going can make a big impact on the figures," said Mr Dukes.
"We've got a nice spread of relatively small to medium-sized enterprises that are just quietly getting on doing what they do."
In south Norfolk, a new company has given the county's traditional boat building industry a new lease of life by spotting a gap in the market that is paying dividends.
Tootega, set up by local men James Dennis and Steve Giles, began making leisure and fishing kayaks 18 months ago.
The pair have since shipped their boats to the US, Australia, Germany, Ireland and Greece.
"It's a sit-on-top kayak. By that what we mean is you sit on top of it rather than slide inside," said Mr Giles, who along with Mr Dennis has been a competitive kayaker for a decade.
"It is much more accessible to people and removes all the worries of going offshore, capsizing and sinking, because if you capsize it, you just flip it over and climb back on.
"We started designing boats because we couldn't get competition boats to do what we wanted to do. Ultimately we moved into launching our own brand."
Since it began, sales of Tootega's kayaks have tripled, meaning the diggers are out at their Attleborough base creating a factory extension. The sixth and seventh employees are about to clock-on for work in the next few weeks.
'Made locally'
In the village of Little Melton, south west of Norwich, in less than a year the Little Melton Gourmet Yoghurt company has put its products on shelves at Harrods, Fulham Football Club, and Co-Op and Tesco stores throughout the east of England.
"We came to Norfolk at the end of May. Since then our sales have increased month-on-month," said Cara Collins, who married her company co-director Mark three weeks ago.
"We came over from a company in New Zealand to see if the products would be popular in the UK. The east of England and Norfolk seemed to have the best of what we were looking for."
Mrs Collins said people in Britain respond well to foods that use local ingredients and are made on their own doorstep.
"Consumers are becoming more food-savvy and love things that are 100% natural and made locally. People will travel miles to buy them," she said.
"The main issue we have is distribution. We have found it hard to find companies that are willing to come in and out of East Anglia, but we manage."
Despite the issues that rural areas have sustaining a business infrastructure linked to limited transport routes and slow broadband speeds, David Dukes believes new businesses are going to continue to spring up in south Norfolk.
"I can't believe south Norfolk is going to go backwards and will continue its trend," he said.
"Europe is in the doldrums, but the world is not in a recession. There are huge opportunities in the Far East, including China and India, but also in countries such as Turkey.
"In Norfolk we are blessed with diverse sectors and many companies are leading the way in their fields."