St Benet's Abbey awarded Heritage Lottery Fund grant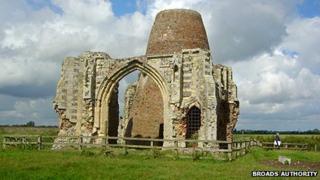 The ruins of St Benet's Abbey are to be preserved following a grant of £671,000 from the Heritage Lottery Fund (HLF).
The funding will support the ongoing conservation of the 1,000-year-old abbey's remains, the medieval gatehouse and precinct walls.
Dr Peter Wade-Martins, director of the Norfolk Archaeological Trust, said the grant was a "tremendous boost".
The funding will also allow for public access to the site, by the River Bure, to be improved.
'Massive boost'
Dr Wade-Martins said: "St Benet's is a special and evocative landmark in the Norfolk landscape.
"It is tremendous that we have been awarded such a generous grant from the HLF to conserve the site and make it more accessible to the public."
Donna Chessum, member of the HLF for the East of England, said they were "delighted to be able to support the conservation of this beautiful and much-loved heritage site".
St Benet's was the only Anglo-Saxon monastery in Norfolk which remained in use after the dissolution.
Instead of closing the monastery, King Henry VIII exchanged it for lands owned by the Diocese of Norwich.
'Long standing ambition'
The Bishop of Norwich still retains the title of abbot and holds anopen air service on the abbey siteeach August.
The Broads Authority has contributed £58,000 to the project in kind through the provision of its construction team to build a car park, footpaths, bridges, gates and landscaping.
Dr Stephen Johnson, chair of the Broads Authority, said: "It has been a long standing ambition of the Broads Authority to see better access and more information provided for the millions of people who visit the area every year. This HLF grant is a massive boost which will make this ambition a reality."
About 300 volunteers from across the local community will be involved in the project - undertaking species surveys and archaeological and historical research.
Mrs Chessum added: "Thanks to this project, visitors will learn more about the fascinating history of the remains while local people will have the chance to get directly involved in preserving the abbey for future generations."