Pseudomonas level reduces at Norfolk and Norwich Hospital baby unit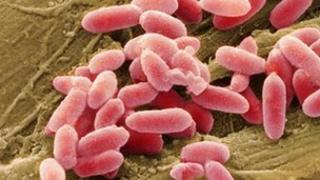 A neo-natal intensive care unit in Norfolk which had traces of a bacterium no longer has high levels in its water supply, the hospital has said.
Pseudomonas was found two weeks ago in water tests at the Norfolk and Norwich University Hospital.
Samples from three babies showed signs of bacteria but none had any infection.
"Further tests of all supply points will continue until the testing process has restored our confidence in the water supply," the hospital said.
It added that, until then, it would continue to use sterile water for baby care.
All babies in the unit are being screened to check whether any are colonised with pseudomonas.
Four babies died of complications associated with the bacteria in hospitals in Northern Ireland, in December and January.
Latest figures suggest that the number of pseudomonas infections is fairly steady, with between 3,700 and 4,000 cases reported to the Health Protection Agency each year.