Market Gates Shopping Centre goes into administration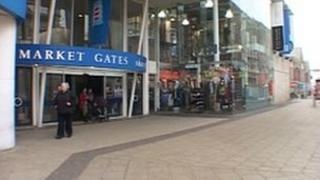 The Market Gates Shopping Centre in Great Yarmouth has gone into administration.
Deloitte LLP was appointed as administrator for the site earlier this month, on behalf of owner the Market Gates Shopping Centre GY Limited.
In a statement, Deloitte said the centre, which is home to about 40 stores including Boots and Debenhams, had a high level of occupation.
The development will continue to operate as normal, the statement added.
'Lifeline'
Nick Spencer, the manager of Market Gates, said: "It did come as a bit of a surprise, but I think that's the economic climate we're in. It's important to emphasise this shopping centre will not close.
He added: "As an investment vehicle the shopping centre's had several owners over its 35 years and all this will mean is another change of ownership."
Speaking at a tourism conference being held in Norwich earlier, Great Yarmouth councillor Bertie Collins, said: "To be perfectly honest, it's been a lifeline to Great Yarmouth and if it does close that will be terrible for the borough.
"Where it's situated in the centre of the town we can't afford to have the shops empty."
A spokeswoman for Deloitte said the firm had been appointed administrators for the centre by the Bank of Scotland.
Matt Cowlishaw, of Deloitte, said: "We will look to undertake a proactive asset management strategy over a period of time in order to make the development even more attractive to potential investors and occupiers before considering our options further."