Norfolk and Norwich Hospital apology over Pseudomonas bug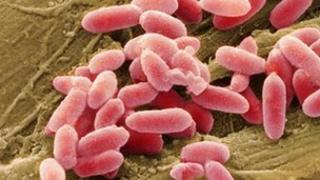 A hospital in Norfolk has written to parents to apologise over the discovery of a bacteria that has led to four fatalities at two other hospitals.
Higher than normal levels of Pseudomonas bacteria were found in water samples at the Norfolk and Norwich University Hospital last week.
Samples from three babies showed signs of bacteria but none had any infection.
Four babies have died of complications associated with the bacteria in hospitals in Northern Ireland.
Anna Dugdale, chief executive of the Norfolk and Norwich University Hospital, wrote: "I should like to apologise for the additional anxiety that I know this event may have caused you at an already stressful time.
"As an organisation we are committed to being open with our patients and their families working on the basis that the trust we hope to build with you is an essential component of excellent care."
The hospital is continuing to test the three babies and the water supply for Pseudomonas bacteria.
Sterile water is being used in the unit and flexible hoses on basins where the bacteria were found replaced.
A number of outbreaks have been reported at other hospitals in the UK, with the source sometimes traced back to contaminated water in sinks and drains.
Bacteria have the ability to survive for up to several days on surfaces, further increasing the risk of it being passed on to patients.
Latest figures suggest that the number of Pseudomonas infections is fairly steady, with between 3,700 and 4,000 cases reported to the Health Protection Agency each year.