Breckland soil inversion project 'encourages rare wildflowers'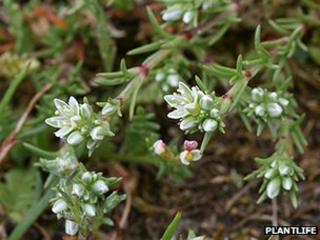 A conservation project to encourage the growth of rare, indigenous, wildflower species in heathland habitat is under way in Breckland.
Workers are ploughing 24 hectares (59 acres) of land at Hockwold Heath and East Harling to bring the natural sandy, chalky soil back to the surface.
The process, known as soil inversion, removes mosses in the top soil which stops wildflowers from seeding.
It is the first time the conservation method has been used in Norfolk.
Tim Pankhurst, regional conservation manager with Plantlife, said: "The process uses a specially adapted plough to turn the soil upside down from nearly a metre below the surface to get rid of the top layers of soil which have become nutrient enriched.
"This increase in nutrients causes grasses and moss to grow, which means you get no bare ground which is what Breckland wildflowers need to prosper."
'Go extinct'
Mr Pankhurst said wildflower species had been in particular decline in the area, including a number of rare breeds such as Spanish catchfly, tower mustard and the prostrateperennial knawel.
"Unless we address the decline of these species they will go extinct," he said.
"There are only four sites in the world where you'll find the knawel and these are in Breckland.
"The species is growing near to where we've inverted the soil and the hope now is that it will seed in this area."
The ploughing, costing £15,000, is being funded by a number of conservation organisations, including Plantlife, the Norfolk Wildlife Trust and Butterfly Conservation.
The work is the first phase of a 20-year conservation project.
Abiodiversity studyled by the University of East Anglia found there are more then 12,500 species in the Brecks. Nearly 2000 are of national conservation concern.