Diana and Actaeon: 40-year love affair for Norwich curator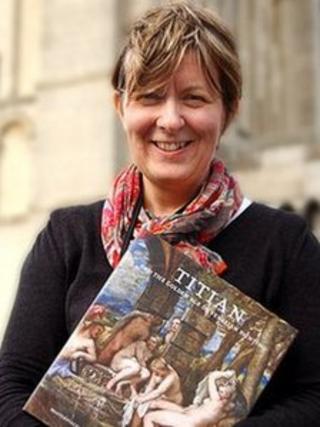 Art can be influential, inspiring and challenging - but for one Norfolk woman it was life-changing.
A childhood encounter with Titian's celebrated Diana and Actaeon ignited a passion that went on to shape her life and career.
The £50m masterpiece is on loan to Norwich Castle Museum from London's National Gallery and for exhibition's officer Heather Guthrie the painting's visit is more a like a reunion with an old friend.
Ms Guthrie said she fell in love with the Venetian masterpiece as a 12-year-old, growing up in Scotland in the 1970s. Little did she know that a visit to the National Gallery of Scotland would be a life-defining moment and the start of a 40-year love affair with the old master.
She remembers, as a pupil at Craigmount High School, her first experience of an art gallery.
"That visit was responsible for giving me a taste of what it was like to see a painting of this magnificent scale in a heavy gilt frame - it was the inspiration to make me pursue a career in the arts," she said.
"It was an environment where you're exposed to objects that are, in essence, such fantastic things. Something happened on that visit that was about finding an object that had the power to move me."
Diana and Actaeon was a constant inspiration through Ms Guthrie's fine art studies. In the early 1980s she trained as a painter and art historian at Edinburgh University and Edinburgh College of Art.
Titian the storyteller
Having worked at the National Gallery of Scotland, the Scottish National Gallery of Modern Art and the Scottish National Portrait Gallery, she moved to Norfolk as assistant keeper of arts at Norwich Castle in 1991.
She said: "I'd often find myself popping into the gallery and sit with the Titian - it was a bit like visiting an old friend.
"For me, Diane and Actaeon is about being moved not only by Titian's talent as a painter, but in his ability as a storyteller.
"The time I've spent with the painting over nearly 40 years has let me see more of the details, to feel more emotion. Objects have the power to do that - particularly when they've been part of your childhood."
Diana and Actaeon was commissioned from Titian, a Venetian artist, by Spain's King Philip II in the mid-1550s. It is widely considered to be one of the most important paintings of the Italian Renaissance.
Only regional exhibition
Part of a series of six large-scale mythology paintings, Diana and Actaeon was put up for sale in 2008 and became the subject of ahigh profile campaignto save it for the nation.
It was bought for £50m by the National Gallery and National Galleries of Scotland with contributions from the Scottish Government, National Heritage Memorial Fund, The Monument Trust, The Art Fund and the public.
Norwich Castle Museum is the only regional venue to display the work this year.
Ms Guthrie said: "We first found out about the possibility of Norwich Castle hosting Diana and Actaeon in 2010. It was so exciting the day the painting arrived - it felt just like an old friend I hadn't seen for many years was coming to visit.
"The painting has such an incredible history and I've had such a personal relationship with it - I was so excited that it was now here in Norwich, my home, my place of work.
"Although I moved to Norwich more than two decades ago, my memories of this beautiful and captivating painting have travelled with me across time, and the Scottish and English border.
"It was such a fantastic moment to open the packing crate and reveal the painting - it was like, 'Hello again, you're here - I can't believe it'."
TheDiana and Actaeon exhibitionat Norwich Castle Museum opened on 3 April. In the first week more than 4,000 people visited the show, a 30% increase in visitor numbers on the same time last year.
Titian's Diana and Actaeon can be seen at Norwich Castle Museum until 15 April.