Illegal fishing concerns issued after Norfolk Broads line discovery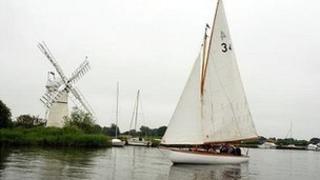 The Environment Agency is urging people to report suspected illegal fishing activity after a set line containing 50 hooks was found on the Norfolk Broads.
The agency said the line, found on Rockland Broad, was the latest in a series of incidents that had been reported to them in the eastern region.
At the weekend it was reported anotter had been found deadin an illegal eel trap in rural Lincolnshire.
The body said illegal netting, trapping and fish theft impacted on fish stocks.
"Those operating illegally have a negative impact on the environment," said Lesley Robertson, environmental crime team leader.
"We take illegal fishing very seriously and reports from anglers play a crucial role in our investigations."
The agency said suspicious activity should be reported to them immediately.