Pseudomonas found at Norfolk and Norwich Hospital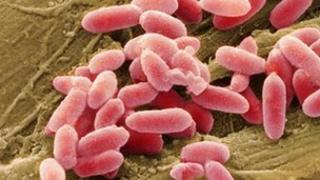 An infection which led to the deaths of four babies in Northern Ireland has been found at a Norfolk hospital.
"Higher than normal" levels of Pseudomonas were detected during tests of the water systems at the neo-natal intensive care unit at the Norfolk and Norwich University Hospital.
It said no babies have been infected and it wished to reassure the public.
Three babies have been given antibiotics after the bug was found to have colonised on their skin.
The unit is using sterile water, the hospital said.
Staff have met individually with the parents of all babies on the unit, which cares for premature infants.
'Possibly no link'
Dr David Booth, a consultant at the unit, said: "The safety of the babies in our care and supporting their parents and families are our priorities.
"We would like to emphasise that none of our babies are showing any signs of Pseudomonal infection."
The hospital said there may be no link between the bacteria in the water and the babies colonised with the bacteria.
It is expected to have more information when additional test results on the samples are available in the next few days.
In January, three babies died from the infection at a neo-natal unit in Belfast, and in December one baby died at a Londonderry hospital.
Found in soil
Pseudomonas aeruginosa is a relatively common type of infection encountered in UK hospitals, and its tough nature and the severity of the symptoms it causes mean it is a priority for infection control departments.
It is found widely in soil and stagnant water and does not usually cause illness in healthy people but can pose a serious threat to those with weak immune systems.
There have been a number of outbreaks in hospitals in the UK, with the source sometimes traced back to contaminated water in sinks and drains.
It has the ability to survive for up to several days on surfaces, further increasing the risk of it being passed on to patients.
Latest figures suggest that the number of Pseudomonas infections is fairly steady, with between 3,700 and 4,000 cases reported to the Health Protection Agency each year.