Wroxham Barns' supply of lambs hit by Schmallenberg virus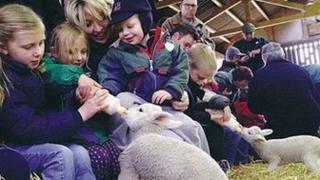 A visitor attraction in Norfolk has become the unlikely victim of the Schmallenberg virus as local farms can no longer meet the demand for lambs.
Wroxham Barns is having to source newborn lambs from outside the county to ensure there is enough livestock for visitors to bottle-feed at Easter.
Farm manager Eileen Calverley said: "We have less lambs locally as farmers are losing so many to the disease."
Figures show 14 farms in Norfolk have so far been affected by the virus.
Wroxham Barns usually take extra lambs from ewes on local farms that are unable to feed their young.
'Downside to farming'
Often this is the third in a set of triplets which is more than the ewe can accommodate with enough milk to ensure healthy growth. These extra newborns are often bought by petting farms.
Speaking to BBC Radio Four's Farming Today, Mrs Calverley said: "We normally get our lambs from six farms in Norfolk, but due to the impact of the virus we're now having to cast our net further afield and pick up lambs from Suffolk and Essex to bring up on the bottle."
The Schmallenberg virus has been reported in eastern England since January 2012. It can lead to late abortions and birth deformities in newborn sheep, goats and cattle.
Spread by biting insects such as midges and mosquitoes, there is no known treatment.
Mrs Calverley added: "It's good, in a way. The public see there is a downside to farming. It's not all fluffy lambs and everything born perfect - that's not the real world.
"I've got farming friends and I've seen how tired, how dejected they are.
"My heart goes out to anybody's farm who's got this disease because it's so soul destroying to go through the lambing process and not have the live, healthy lambs, at the end of it."