Dersingham school pupils on the beat as 'parking police'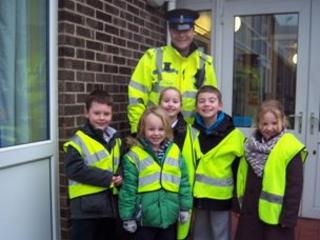 Parking problems creating road safety concerns for a village school in west Norfolk are being tackled by a pupil "parking police" patrol.
Children at Dersingham Infant and Nursery School, near King's Lynn, are issuing car owners with a ticket that advises them on safer parking.
Nine pupils, accompanied by teachers, go on patrol each fortnight.
Teacher Sue Picton said: "The children decided the best way to keep them safe was to go out and talk to the parents."
The school has around 120 pupils with the gates at a busy junction on Saxon Way. The parking patrols are supported by two Norfolk Police Community Supporter Officers (PCSOs).
Zac McAlpine, six, a member of the patrol, said: "The cars were really dangerous and lots of people couldn't get through with the cars parked everywhere.
"The leaflets give people information about parking very safely and they tell people not to park in the wrong place."
Teaching assistant Donna White, who walks the patrol with the pupils, said: "The main problem was that parents were parking irresponsibly, particularly by the school gate.
"We've noticed a huge difference, people are no longer double parking on the junction - people really seem to think now before they park which has clearly improved the safety for the children."