King's Lynn incinerator: Environment Agency lifts flooding concerns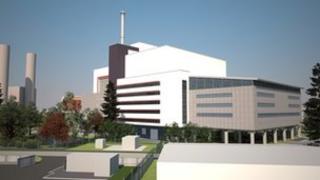 Plans for a waste incinerator in King's Lynn have moved a step closer as the Environment Agency has withdrawn its final planning objections.
The agency said two outstanding concerns about flooding could now be lifted after gaining additional information from the plant's developer.
Other environmental issues were settled last year.
Full planning permission for the plant will have to come from Norfolk County Council.
The authority agreed to award developer Cory Wheelabrator the £500m energy-from-waste plant contract, at Saddlebow, in March 2011.
The deal was eventually signed earlier this month.
The council said it expected to make a decision on whether to grant planning for the incinerator in the next few months.
It said it was consulting other government bodies as part of the process.
'Significant risk'
The Environment Agency said it previously had concerns about contaminated land, pollution prevention and biodiversity, but said those planning issues were satisfied by developer Cory Wheelabrator last August.
It said a permit to operate, which was separate to planning permission, had yet to be granted and was in the process of consultation.
The permit assesses criteria such as plant emissions and how the site operates.
John Bolton from Cory Wheelabrator said the Environment Agency's decision was a "major step forward" for the Willows Power and Recycling Centre and the company would continue to focus on securing planning permission.
Michael de Whalley from campaign group King's Lynn Without Incineration said the Environment Agency's lifting of the objections was "insane".
He said it was "completely unnecessary" to site the plant in a flood risk area that could still be at "significant risk" from a tidal surge.
He said any flooding could release hazardous materials such as ash into the water and surrounding area.
Norfolk County Council put out a second public consultation on the incinerator in January and at the end of its 28-days said it had received 2,864 responses, which had been loggedonline.
Environment Secretary Caroline Spelman awarded the plant £91m of private finance (PFI) credits in January.
King's Lynn Borough Council, which opposes the plant, is seeking a judicial review of the funding.