Leap year wedding proposal prayer by Norwich cleric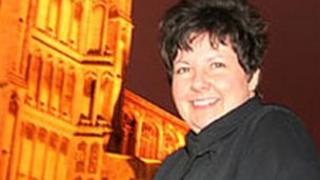 A special prayer has been written by a Norfolk cleric for people planning a Leap Year Day marriage proposal.
The prayer, for 29 February, asks for blessings on the engaged couple and that wedding plans should not overtake preparations for a lifetime together.
The prayer has been taken from Pocket Prayers of Blessing, by the Venerable Jan McFarlane, Archdeacon of Norwich.
She said 29 February was a popular day to get engaged with women traditionally "allowed" to propose to men.
Ms McFarlane said: "This is a popular time of year to propose.
"My hope is that this new pocket book will help us to bring God's blessing into every situation.
"And that it will help us to remember that through good times - and bad - God is always there beside us."
Ms McFarlane, 47, was first female archdeacon ever appointed to the Diocese of Norwich and took up her post in 2008.
She trained at Cranmer Hall in Durham and was ordained at Lichfield Cathedral in 1993.