James Paget University Hospital to cut up to 64 staff posts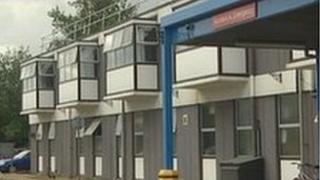 A hospital serving Norfolk and north Suffolk is to cut up to 64 staff posts, it has been announced.
James Paget University Hospital in Gorleston, Great Yarmouth, is under pressure to save £19.5m by 2014 and said the cuts would save £1m a year.
A hospital spokesman said the decision had "not been taken lightly" and staff would be redeployed where possible.
He said some staff would be made redundant. Posts being cut would mostly affect administration and support.
A 90-day staff consultation period has begun. The hospital said other staff savings would come from contractual changes.
It said some posts would be regraded and other staff would see a reduction in their earnings through changes to working hours, for example moving from unsociable hours payments.
'Financial realities'
The hospital is proposing pay protection for staff redeployed into lower paid posts for up to three years.
For those whose hours and working arrangements are being changed, the protection would be applied for up to a year.
Director of workforce, Kirk Lower, said: "The trust [James Paget University Hospitals NHS Foundation Trust] has thought very carefully about the proposals.
"Whilst there is never a good time to announce such changes, the financial realities facing us cannot be set aside."
Paul Smith, staff side secretary at the hospital and workforce representative, said: "We have been assured by the trust that they will engage with us in meaningful consultation and negotiations.
"It's important that staff know that we will be doing our utmost to defend job losses and protect those that inevitably will be facing loss of income and changes to their working lives."
Union Unison said the James Paget was recruiting more nurses and other clinical staff to avoid problems uncovered by inspectors last year.
The Care Quality Commission (CQC) raised concerns about patient nutrition and management of medicines.
The hospital was deemed "compliant" in January after making improvements.