Special officers on horseback to ride for Norfolk Police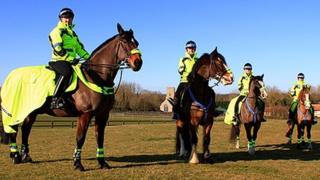 Special officers on horseback will patrol the Norfolk countryside in an attempt to combat rural crime.
The three special officers and one police community support officer will ride the beat in south Norfolk using their own horses for the patrols.
Officers said having access to farms and bridleways would have a "huge impact" on what they could do.
Mounted patrol officers had been previously last used in Norfolk in the mid-1900s.
The move comes as part of the force's Operation Randall, a project to deter criminals targeting the countryside. Officers said patrolling on horseback would give rural communities better access to police support.
The cost of funding the horses' equipment and uniform, around £600 per mount, has come from sponsorship. The specials provide their time and their own horses free of charge to Norfolk Police, but they are reimbursed expenses.
Temporary Ch Supt Nick Dean said: "The specials' patrols will provide extra eyes on the ground in vulnerable locations, tapping into their local knowledge and accessing areas that would not normally be patrolled by car or on foot.
'Eyes and ears'
"They will provide reassurance for local people via visible policing and increase our intelligence picture within the rural communities."
The four officers, Richard Tallent, Becky Taylor, Nicola Rix and Edward Arbuthnot, will be the police's "eyes and ears" in the countryside.
They will not be used to police riots, control public order and large-scale demonstrations.
Special constable Nichola Rix said: "This role is non-confrontational. It's to make sure nothing is being stolen or anything that looks suspicious is reported.
"We won't go towards any situations that could put our horses in danger. We'll literally be eyes and ears and jot down anything that we see.
"I'm very excited, I've wanted to do this ever since I was little to ride for the police, it's a good opportunity."
The introduction of mounted specials in Norfolk was inspired by Hertfordshire Police which was the first force to trial the idea in 2009. Avon and Somerset are now also considering the scheme.
Insp George Holland, who leads the project in Hertfordshire, said: "Part of the idea was to get people that ride, who live in the countryside and interested in country issues, to use their horse as transport.
'Reduction in crime'
"It shows how the force is helping to address concerns like fly-tipping, metal theft and most importantly, for the farmers and stables - they see horse patrols where you'd never normally see police patrolling.
"Without doubt, since we started the scheme we've see a reduction in crime where the officers on horseback are present."
Before going into duty the specials and their mounts had to pass an assessment with Jacko Jackson, a field officer with World Horse Welfare (WHW), and former police officer.
He said: "We're making sure the riders can do certain movements, like ride one-handed if they have to use the radio - and that they are safe because they will be out in the countryside and we need to keep people safe on the road.
"If you think back to the turn of the century every village had a policeman that used horses. The aim of this is to bring police back into the countryside - you've basically got a 10ft policeman."
The project will run for an initial six months with officers starting patrols in mid-March.