Norfolk pig cruelty probe farmer died of gunshot wound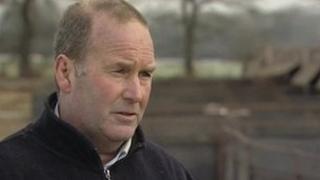 A farmer found dead days after a probe was launched into claims of pig cruelty died from a severe head injury "due to a shotgun blast", an inquest has been told.
The body of Stephen Brown, 52, was found at Harling Farm, near Thetford, Norfolk, on Wednesday.
Footage had emerged on Sunday apparently showing pigs at the farm being slapped, beaten and kicked.
The opening of the inquest heard Mr Brown's body was found by his father.
Michael Brown said he had last seen his son at 05:45 GMT on Wednesday. He left Stephen Brown's farm, but returned later and saw his son's vehicle was missing.
'Dead at scene'
He was concerned for his welfare and searched for the vehicle, finding it on a track adjacent to Quidenham Road, East Harling.
Stephen Brown's body was found next to the vehicle "with no signs of life" and paramedics were called, pronouncing him dead at the scene, said Norfolk coroner William Armstrong.
A post-mortem examination was conducted by Professor Richard Bull who said it was due to a gun wound to the head.
Police have told the coroner that there were no suspicious circumstances in the death and no third party involvement.
The inquest was adjourned to a later date.
The RSPCA is investigating the footage filmed by animal rights group Animal Equality.
An undercover investigator gathered more than 200 hours of footage and 300 photographs over two months last summer.