Filby Broad: Norfolk nature reserve gets winter makeover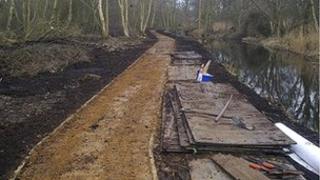 Work is taking place on a Norfolk nature reserve to improve the habitat for wildlife.
Filby Broad, near Great Yarmouth, is undergoing a £46,000 redevelopment to include a new pathway and the clearing of a dyke to encourage breeding fish.
Filby is one of a group of broads including Ormesby and Rollesby, which are known as the Trinity Broads.
Otters, bitterns and kingfishers have been seen on site throughout the work.
Project officer Hannah Gray said: "We've got a really nice dyke here but it's been unmanaged for the last 20 years.
"It was in desperate need of re-digging out because it had silted up, so we've had to bring some heavy machinery."
The project is taking place now in order to minimise any disruption to wildlife.
The work will be completed by Easter.