Florence Green: Funeral held for last WWI veteran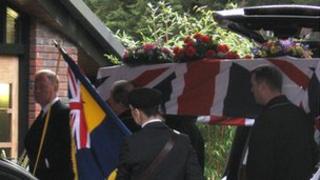 The funeral of a woman thought to be the last person to serve in the armed forces during World War I has taken place in west Norfolk.
Florence Green, 110, from King's Lynn, served as a mess steward at RAF Marham and RAF Narborough in 1918.
She died on 4 February at Briar House care home, King's Lynn, 15 days before she was due to celebrate her birthday.
The funeral was held at Mintlyn Crematorium, Bawsey, and marked with a flypast by a Tornado from RAF Marham.
Mourners included a guard of honour from the 42F King's Lynn Squadron Air Training Corp, standard bearers from the Royal British Legion and Royal Air Force Association and personnel from RAF Marham.
AVM Ray Lock, representing the Chief of Air Staff, said: "Florence was a very popular member of our community.
"I know personnel from Marham would go and see her at birthdays and take round Christmas cakes which just show the affection everybody held Florence in.
'Wonderful flypast'
"She was almost one of our founding members and I think the affection she was held in was entirely mirrored for the affection she felt for the Royal Air Force."
Mrs Green leaves behind three children, four grandchildren and seven great grandchildren.
Speaking after the service, her daughter June Evetts, 76, said: "It was such an honour they [the RAF] did such a wonderful flypast and all the personnel were here.
"Mum was always smiling. In an interview on her 100th birthday she said what a wonderful time she had [in the mess], the best time of her life."
The world's last known combat veteran of World War I, Briton Claude Choules, died in Australia aged 110 in May 2011.
The last three World War I veterans living in the UK - Bill Stone, Henry Allingham and Harry Patch - all died in 2009.