Tributes after Norfolk pig cruelty probe farmer found dead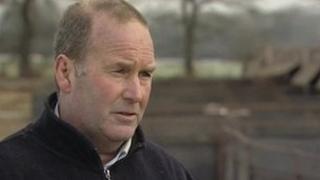 Tributes have been paid to an "honest, genuine and caring" man found dead days after a probe was launched into claims of pig cruelty at his farm.
The body of Stephen Brown, 52, was found at Harling Farm, near Thetford, Norfolk, on Wednesday.
Footage had emerged on Sunday apparently showing pigs at the farm being slapped, beaten and kicked.
Family friend Craig Jarvis said Mr Brown would be "dearly missed".
"Stephen was a loving son, brother, husband, father and uncle who dedicated his life to his family and his farm," said Mr Jarvis.
"He was a truly honest, genuine and caring man, well-loved and respected in the farming world, local community and amongst his friends.
"He will be dearly missed."
The RSPCA is investigating the footage filmed by animal rights group Animal Equality.
An undercover investigator gathered more than 200 hours of footage and 300 photographs over two months last summer.
Police said Mr Brown's death was not being treated as suspicious.