Christian businessman Graham Dacre 'conned out of £12m'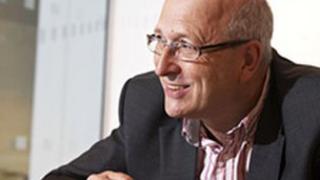 A Christian businessman from Norwich was conned out of £11.9m by five men who played on his religious beliefs, prosecutors have told a court.
Graham Dacre was allegedly tricked out of his money by the men promising "huge returns" from investment funds.
Mr Dacre hoped to use profits for charity, Norwich Crown Court heard.
Ian Yorkshire and David Roberts, of Brighton; Alan Hunt, of Poole; Arthur Ford-Batey, of Carlisle and Kevin Brennan, of East Yorkshire, deny fraud.
Offshore accounts
Prosecutor Mark Fenhalls said the men had manufactured an "air of respectability" and "Christian charity" to trick their victims.
But the yields were not forthcoming and the money disappeared through a network of offshore bank accounts, the court heard.
Other alleged victims include Utah commodities dealer Randall Schreiber, who parted with $900,000 (£570,000) and the New Apostolic Church in Dortmund, Germany, which lost 15 million euros (£12.6m).
When Mr Dacre, a born again Christian, became suspicious he was warned the group had "a file on him" which would be made public, the jury heard.
Mr Dacre dismissed the threats and contacted Norfolk Police in late 2008. No file was ever produced.
Mr Fenhalls said the victim had been looking for investment opportunities and was "predisposed into believing this sort of stuff".
Money laundering charge
He added: "Dacre, I imagine, would be the first to admit now that he didn't understand how it would work."
Mr Yorkshire, 61, of Clarendon Villas, Brighton; Mr Hunt, 65, of The Avenue, Poole; Mr Ford-Batey, 61, of Miles McInnes Court, Carlisle; Mr Roberts, 62, of Montpelier Road, Brighton; and Mr Brennan, 55, of Kirkburn, Driffield, are accused of the fraud dating back to May 2008.
The five men, along with Mr Brennan's brother, Martin, 40, of Bracken Road, Stockton-on-Tees, are also charged with laundering the money given to them by Mr Dacre.
All men deny the charges.
The case continues.