Norwich City sculpture remembers first ground The Nest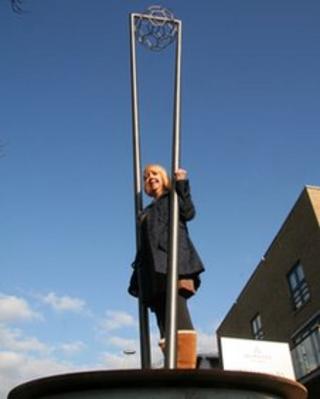 A new sculpture has been unveiled to remember Norwich City's first football ground.
The Nest on Rosary Road was a former quarry and was the home of the Canaries between 1908 and 1935.
The sculpture was commissioned by Hopkins Homes, which converted the site into housing.
The company ran a competition with Norwich University College of the Arts' (NUCA) fine art students to design a sculpture, which Liz Mannion won.
Ms Mannion said: "I've got family and friends who are supporters of Norwich City through generations, so the chance to have the opportunity to put something up in the city was very appealing to me."
The sculpture is of a football going through a tall goalpost, which Ms Mannion said she wanted to have a symbolic meaning.
"I wanted a piece that represented the heights that Norwich City have reached recently, but I hoped it would also bring a sense of community within the housing development."
The sculpture was selected by a panel of people from Hopkins Homes and the football club.
Sarah Hamilton, from NUCA, said: "Four or five different groups put proposals forward and Liz's design was chosen and we are very proud of her."