James Paget Hospital norovirus 'worst for a decade'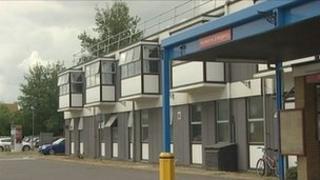 The recent spread of a winter vomiting bug at a Norfolk hospital is the worst it has seen since 2001, a spokesman has revealed.
At its peak in January, eight wards had to be shut to new visitors at the James Paget University Hospital in Gorleston.
Hospital spokesman Jonathan Dack said there had been "a lot of cases in the local community", but hoped the worst of the spread was now over.
Only one ward now remains closed to new patients.
Mr Dack said it was the greatest number of wards the hospital had ever shut due to norovirus.
He said 160 patients turned up to the hospital with norovirus symptoms last month. After testing, 37 people were confirmed to have the illness.
He added that deep cleaning and patients abiding by strict rules to stop movement between wards had helped subside the outbreak.
The Norfolk and Norwich University Hospital and the Queen Elizabeth Hospital in King's Lynn both said only one ward remained shut to new visitors at their hospitals.