King's Lynn waste incinerator contract awarded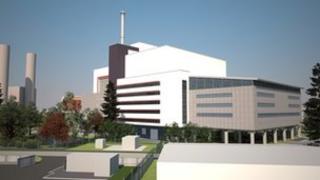 The first contract has been awarded as part of plans to build a £500m waste incinerator in King's Lynn.
Last week the scheme was awarded £91m in private finance (PFI) credits by environment secretary Caroline Spelman.
BAM Nuttall, which has an office in Dereham, has been awarded the civil engineering contract for the Saddlebow scheme.
It could create more than a 1,000 jobs over the 32-month construction phase if planning permission is granted.
Objectors have raised concerns over the impact of emissions on health and the environment.
Last week in a letter to Norfolk County Council Mrs Spelman said the "unusually high level of public concern" did not prevent her granting the credits.
The Cory Wheelabrator Consortium, which is behind the project and awarded the contract to BAM Nuttall, said it wanted the scheme to benefit the local economy.
David Brothers, business development manager at BAM Nuttall, said: "We are liaising with existing suppliers of goods and building service, but we're also keen to speak with firms from across Norfolk and the eastern region about a range of subcontracting opportunities."
Norfolk County Council gave the incinerator the go-ahead in March 2011.
The Borough Council of King's Lynn and West Norfolk, Norwich City Council, some local MPs and residents have criticised the building of the incinerator.