Queen Elizabeth Hospital King's Lynn criticised by Monitor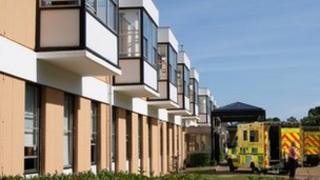 A Norfolk hospital has been criticised by an NHS regulator for failing to meet its performance and finance targets.
Monitor, an independent regulator of NHS Foundation Trusts, found the Queen Elizabeth Hospital in King's Lynn to be in "significant breach of its terms".
It said the hospital had experienced financial problems stemming from an "ongoing failure to plan effectively" and address "performance issues".
The hospital said work is "already under way" to tackle the points raised.
Monitor said the Queen Elizabeth Hospital recorded a "high financial risk" for the first two quarters of 2011-12 and the trust had failed to keep up with its financial recovery plan.
The hospital was expected to save £7.6m from its budget this year, but in a statement it said it would only achieve a £5.3m saving by April.
'Taking action'
A hospital spokesman said the savings target set by its board of directors was in hindsight "over optimistic", but savings were still being made to make sure the hospital worked more efficiently.
He added patient safety and care was not suffering because of the cuts.
The hospital has agreed a savings target of £10m for 2012-13.
Monitor said the hospital would be kept under "close scrutiny" to ensure it delivered its savings.
"Monitor is taking action at this early stage to ensure that the trust addresses its underlying performance and financial issues effectively," said Merav Dover, compliance director at Monitor.
"The aim is to ensure that patients in the King's Lynn area continue to benefit from improved services."
In a statement the hospital said the issues raised by the regulator had already been acknowledged as requiring urgent action and it believed it could achieve a "long-term sustainable solution" to benefit patients and staff.