Sandringham death: Alisa Dmitrijeva's grandmother pays tribute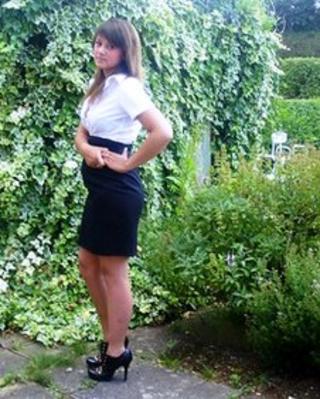 A woman has paid tribute to her "beautiful granddaughter" Alisa Dmitrijeva, who was found dead on the Sandringham Estate, in Norfolk.
Ms Dmitrijeva, 17, was discovered by a dog walker in Anmer, near King's Lynn, on New Year's Day.
Her grandmother, who did not wish to be named, said in a police statement that her family's "hearts have been broken" by Ms Dmitrijeva's death.
She urged people to help police in their murder investigation.
Officers have so far received more than 70 calls from the public.
The grandmother said: "Our family has been left devastated and in a state of grief and sorrow... Our hearts have been broken in the way Alisa was taken from us.
"Please help us to find out what happened to Alisa, and who is responsible for her murder. She was just little, she never deserved this.
"Alisa had just finished college and I proudly look after her certificates which she never knew she achieved. She went missing just before they were delivered. We will never know how bright her future might have been."
'Very encouraged'
Ms Dmitrijeva had been living in Wisbech, Cambridgeshire, and was reported missing from the town on 6 September. Officers think she was murdered within days of her disappearance.
Det Ch Insp Jes Fry, who is leading the investigation, said: "We are very encouraged by the 70 calls and messages we have received since we identified Alisa. These are being followed up by a team of officers making ongoing inquiries into Alisa's disappearance and death.
"I would still ask the local communities in Wisbech and King's Lynn to think back to the August bank holiday and following week in September last year, and to get in touch if they have any information about Alisa's whereabouts during this time.
"We particularly want to hear from members of the Latvian, Lithuanian and Russian communities who may have known Alisa."
Police are looking for Ms Dmitrijeva's black LG GM360 mobile phone and want to hear of any sightings of the bottle green P-registration Lexus GS300 that she was last seen in in King's Lynn on 31 August 2011.