Hunstanton's Princess Theatre set for takeover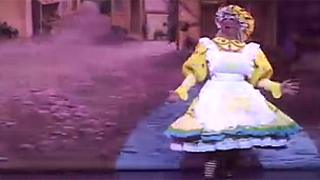 A Norfolk seaside theatre which closed last year looks set to reopen under new management.
The Princess Theatre in Hunstanton had its lease terminated by C and R Cinemas, which rented it from the borough council, and shut in November.
A new venture, formed by four companies with local connections, said it hoped to open the venue again by the summer.
The Borough Council of King's Lynn and West Norfolk said it was in final negotiations with the company.
Council leader Nicholas Daubney said a "viable" business plan had been submitted and talks between new company Hunstone Productions, the council and local theatre groups had been positive.
"We know all over the country that operating seaside theatres is not particularly easy but it's what's wanted by Hunstanton - it's a major part of the Hunstanton economy," said Mr Daubney.
"They believe in what they're doing. They're local people, they seem to have the goodwill of other local people, so I'm looking forward to seeing how this develops."
'Bring the town together'
Hunstone Productions was formed by four representatives from Hallard Entertainments, Searles Leisure Resort, International Music and Leisure and James Johnson & Co Accountancy Ltd.
Brian Hallard, entertainment manager at Hallard Entertainments, said taking over the theatre was always something he wanted to do, having performed at the venue 12 years ago.
His plans for the theatre include a six-week summer season, "major" Saturday night productions, a modern Christmas pantomime and an old movie and cult film club.
He said he hoped the theatre would once again "bring the town together".
The Princess Theatre was previously managed by C and R Cinemas, which ran the venue for over a year.
Before that it was fully controlled by the council, which said it had to subsidise the loss-making venue by more than £300,000 a year.