Norovirus at Norfolk hospitals: Disruption continues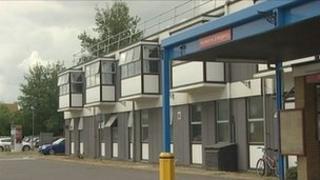 Hospitals in Norfolk are continuing to battle an outbreak of a winter vomiting bug which has forced many wards to close to new patients.
The James Paget University Hospital in Gorleston has wards four, six, 12 and 15 closed due to norovirus.
A spokesman said routine operations at the hospital had been cancelled and new patients faced lengthy delays.
Wards at hospitals in Norwich and King's Lynn have also been closed to new admissions because of the virus.
The Norfolk and Norwich University Hospital has three wards closed, down from four on Wednesday, and Necton ward at the Queen Elizabeth Hospital in King's Lynn remains shut.
Problems with the bug, which causes sickness and diahorrea, began at the hospitals at the weekend, with officials making decisions to close parts of their buildings to new visitors.
'Disappointed and frustrated'
A James Paget spokesman said its patients were suffering from a "very virulent strain" that was being "passed around quickly".
Its director of nursing Carol Crocker said staff were "very disappointed and frustrated" at the problems the bug was causing, but said they were maintaining a "great deal of compassion" towards patients.
She said it was too early to say when the wards would reopen.
The virus had not affected procedures taking place at the Queen Elizabeth or Norfolk and Norwich, the hospitals have confirmed.
All three hospitals said only people who required urgent attention with their symptoms should visit.
People who needed to see patients should follow basic hygiene rules and avoid consuming food and water on the wards, the hospitals said.