Red squirrel enclosures opened at Mayfields Farm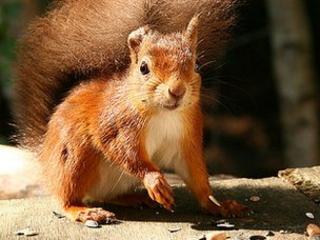 Two new breeding enclosures, designed to help increase the UK's red squirrel population, have opened in Norfolk.
The enclosures by the Countryside Restoration Trust (CRT) have been built at its Mayfields smallholding at Themelthorpe near Foulsham.
Trust chairman Robin Page said: "Red squirrel is an endangered species and we want to help it survive. It was once very, very common in Norfolk.
"These enclosures... are luxury penthouses for squirrels."
Members of the public can view the squirrels at the Mayfields site.
Mr Page said: "We hear so much about saving tigers and rhinos and all sorts of things in different parts of the world - quite exotic.
"We think a red squirrel is exotic and we want to save our precious, iconic red squirrel."
'Squirrel desert'
Red squirrels were once a common site in British woodland but they are now mainly confined to northern pine forests and islands such as Brownsea in Poole Harbour and Anglesey.
The release of non-native grey squirrels in the 19th century is the main cause of their sharp decline, as the grey is larger, more aggressive and better adapted to broad-leaved woodland.
It is also is a carrier of the squirrel pox virus, which is deadly to the reds.
The new enclosures at Mayfields bring the number of East Anglian Red Squirrel Group breeding sites to 10.
David Stapleford, from the East Anglian Red Squirrel breeding programme, said: "This new location will help our breeding population considerably and it's important we now have the support of the CRT.
"In East Anglia we've become something of a desert when it comes to red squirrels since the early '80s.
"Much to our surprise the reds we've paired produced a litter last year - unusual when they were so young - so we're hoping to expect two litters this year which on average would mean six kittens."
The young squirrels from Mayfields are most likely to become part of a red squirrel reintroduction programme in Anglesey.