North Norfolk council declines Dudgeon cable corridor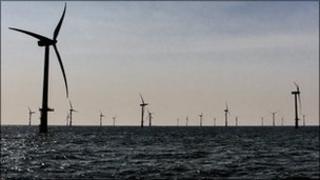 Councillors in north Norfolk have declined plans to clear a 40m (131ft) wide corridor through 28 miles (45km) of countryside to lay a power cable.
The cable would have connected the Dudgeon windfarm, 20 miles north of Cromer, to the national grid.
The scheme, proposed by Warwick Energy, was rejected due to the possible impact on the landscape and farming.
About 50 farmers would have been affected by the work. Warwick Energy said it would appeal.
'Quite bizarre'
Mark Petterson from the company said: "We've gone out of our way at great cost to bury the cable, to preserve the integrity of the beautiful Norfolk countryside, and yet we've been refused on landscape grounds.
"It's quite bizarre."
Fulmodeston farmer William Runciman, who would see up to 10% of his farm disturbed by cabling work, said: "The land would be restored, but it's never, ever going to be in the same condition that it is now.
"We're going to be left with a scar running from Weybourne down to somewhere near Swaffham, 45 kilometres long, 45 metres wide, with no trees growing along the route."
Warwick Energy had hoped to be producing power from the Dudgeon offshore windfarm by 2015.
Councillors were advised by officers to approve the plans because they were considered better than having overhead pylons.